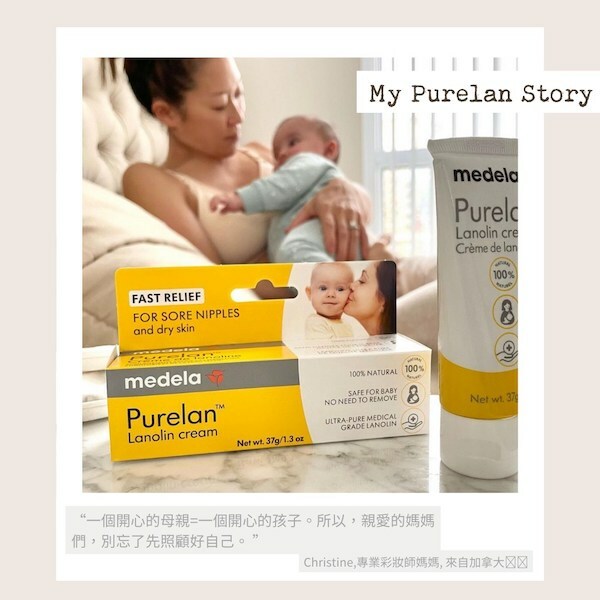 如果問Savannah成長過程中給了我什麼不開心的事,我只是想說:母乳喂養。😅
Real talk:第一次做媽媽的準備工作很少,對於母乳餵養的實際感覺……
事實上,你的乳頭可能如此敏感
連空氣都痛。除了對乳頭,其他部位也能變超乾燥。
新的 PurelanTM 羊脂膏來自
@medela_canada 是我的乾性皮膚救星。
真是一種解脫——從字面上看!這種單一的成分,超純醫用級羊毛脂在臨床上,證明可以舒緩疼痛的乳頭,並緩解乾性皮膚。
我也用它在我的角質層,肘部,膝蓋、嘴唇——任何需要額外的部位
它在水中吸收兩倍的重量,並且在保護皮膚外表面的同時重新平衡自然水分含量。
我經常被問到實際上哪些護膚品工作,但在小孩周圍使用是安全的。
請放心,PurelanTM 有極高標準守護對哺乳媽媽和寶貝們。感謝美德樂救了我的皮膚!& C
圖文來源:christinechobeauty
原文分享
#Ad When Savannah grows up and gives me any grief, I'm just gonna say one word:breastfeeding.
@ Realtalk: There's little to prepare first time moms for what it's actually like to breastfeed…
like the fact that your nipples can be so sensitive that even air hurts.
Besides trauma to nipples, other areas can also become superdry.
New PurelanTM nipple cream fromㄖ@medela_canada is my dry skin saviour.
What a relief – literally!
This one-ingredient,ultra pure, medical-grade lanolin is clinically proven to soothe sore nipples and relieve dry skin.
I also use it on my cuticles, elbows, knees, lips – any areas that need some extra TC.
It absorbs twice its weight in water, and protects the outer surface of the skin while rebalancing natural moisture levels.
I often get asked which skincare products actually work, yet are safe to use around little ones.
Rest assured, PurelanTM is both highly effective, and safe for nursing moms and babies.
Thank vou Medela for saving my skin! & C
#YesMedela #MedelaPartner